Help with GDPR

If you are one of the many financial services professionals that finds it almost impossible to keep up-to-date with the changes in regulation, help is at hand.
We realise that sometimes it is very difficult to know what part of regulation a case falls into and what FCA permissions you will need.That is why we have set up a Compliance Help-Desk, to try to answer questions about those enquiries where you have difficulty in identifying how you should proceed.
To indicate how seriously we take our obligations to FCA rules, during recent compliance visits carried out by the NACFB, in addition to obtaining a 100% mark on our scorecard we received the following comments from the Compliance Consultants.
Whilst writing, it is a very rare occurrence that I feel compelled to reassess my view of best practice, but this is one of those occasions. In reality, I do not see what you do as moving the goal post, more a case of better than best practice, particularly considering the resource that you have available. So very well done.
Specialist Financial Services Ltd works to a singular framework, adopting a unified and compliant approach to its financial activities across the firm's product range. We identified no gaps in compliance to regulation and identified areas of best practice, notably in AML and Data Protection controls.
You can download our GDPR checklist by completing the form below.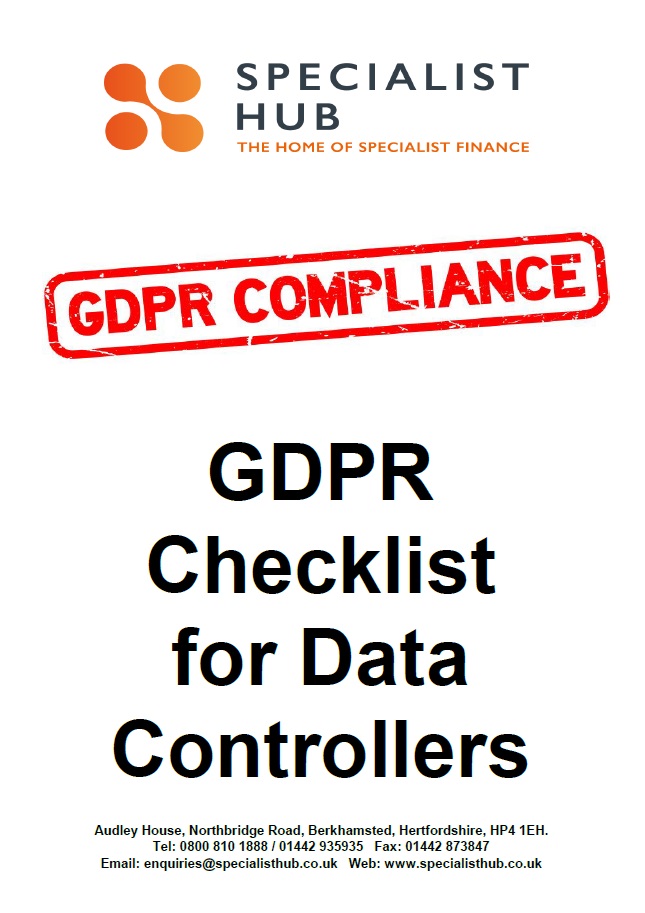 complete the form below to get your GDPR checklist
Stationery Cupboard
Everything you need to submit business with the U.K.'s original and best Specialist Finance provider.
From Decision in Principle Forms, our valuation payments form, Initial Disclosure Documents for all products and other Compliance Documents, everything you need is in one place.
However, if you cannot find what you are looking for, call us free on 0800 810 1888 or click here to email us directly.



Contact Us
Audley House, Northbridge Road, Berkhamsted, Hertfordshire, HP4 1EH

0800 810 1888

0800 810 1005
All calls are recorded for training and compliance purposes. Specialist Hub is a trading style of Specialist Financial Services Ltd. Registered in England and Wales, company number 05309450. Registered office is 133 Canalot Studios, 222 Kensal Road, London W10 5BN. Specialist Financial Services Ltd is authorised and regulated by the Financial Conduct Authority, FRN 676853. This website is for professional intermediaries and introducers only, and is not intended for use by the general public. Reproduction of this website in whole or in part without permission is prohibited.
We are a broker, not a lender.
Specialist Financial Services Limited © . All Rights Reserved.
Complaints Procedure | Customer Charter | Website Terms & Conditions | Privacy Policy | Cookies Policy