Your Income

The first questions we are always asked by new business introducers are "How much will I earn and when do I get paid?"
We have always paid our introducers by Faster Payment on the day the transaction completes. This can sometimes be ten days earlier than we are paid. Our view is that you should not be penalised by having to wait for us to receive our income - we don't have a cashflow problem and nor should you.
With so many products on offer, we like to...
…keep how much we pay you as simple as possible.
Just like other brokers, our income is usually made up from commission from our lender and charging fees that are paid to us upon completion. We then pay you your share of this income and this is how we structure our commission.
When you introduce an enquiry to us, you will know from the outset the commission you are likely to receive. You can download our guide to Application Fees & Product Commission by completing the form below.
Obviously, these figures are for guidance only and may be subject to change. When you submit an enquiry we will inform you how much you will receive.
Loan Commission without the 50/50 split!
We have come up with what we believe to be the most transparent commission structure in the UK, and a truly fair and flexible solution.
We realise that every introducer is different. That's why our commission structure is flexible enough to suit your requirements and treat your customer fairly at the same time. All fees, commissions and product terms are declared to your client before the loan process starts, so there are no nasty surprises in the future when they come to repay the loan advance.
We believe our way is fairer and more transparent for you and your client and is in keeping with 'Treating Your Customer Fairly'.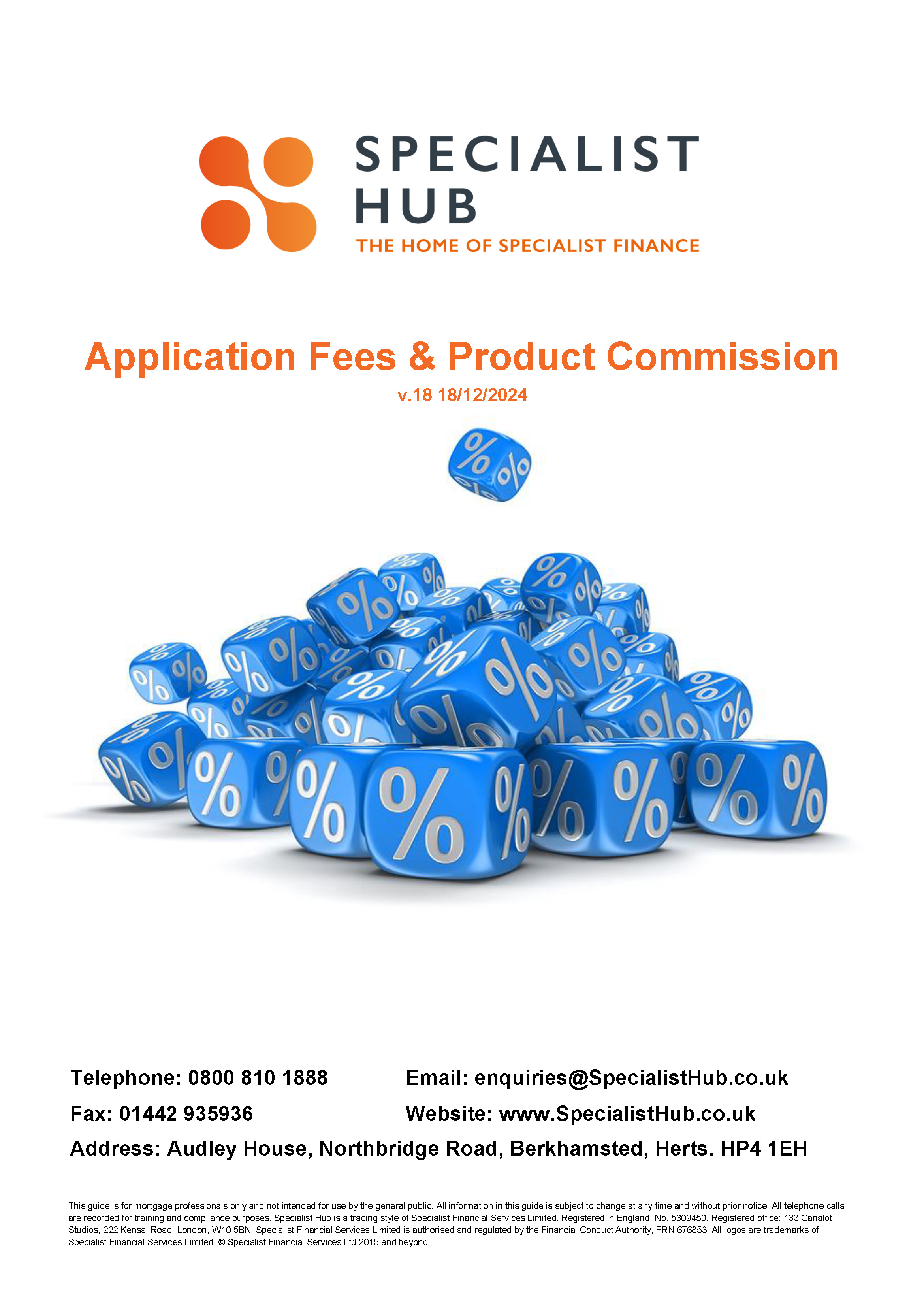 complete the form below to get your free guide
Stationery Cupboard
Everything you need to submit business with the U.K.'s original and best Specialist Finance provider.
From Decision in Principle Forms, our valuation payments form, Initial Disclosure Documents for all products and other Compliance Documents, everything you need is in one place.
However, if you cannot find what you are looking for, call us free on 0800 810 1888 or click here to email us directly.



Contact Us
Audley House, Northbridge Road, Berkhamsted, Hertfordshire, HP4 1EH

0800 810 1888

0800 810 1005
All calls are recorded for training and compliance purposes. Specialist Hub is a trading style of Specialist Financial Services Ltd. Registered in England and Wales, company number 05309450. Registered office is 133 Canalot Studios, 222 Kensal Road, London W10 5BN. Specialist Financial Services Ltd is authorised and regulated by the Financial Conduct Authority, FRN 676853. This website is for professional intermediaries and introducers only, and is not intended for use by the general public. Reproduction of this website in whole or in part without permission is prohibited.
We are a broker, not a lender.
Specialist Financial Services Limited © . All Rights Reserved.
Complaints Procedure | Customer Charter | Website Terms & Conditions | Privacy Policy | Cookies Policy